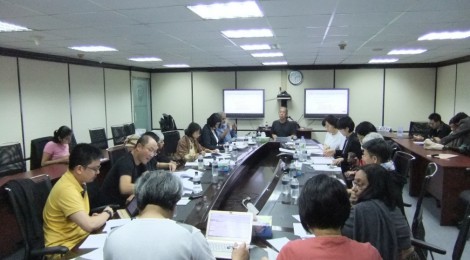 IACS Board: nominations for new Board
Dear Members,

The current board will end its term in July 2023. We thank you all for your generous and ongoing support of our past activities. In preparation for the Society to grow and thrive, the current board, having consulted with our existing networks, put together the following nominees to serve on the incoming board from August 2023 to July 2025. The nomination is meant to represent the expanding geography and generation of the IACS Society. We present these nominees to you. Please kindly send us your approval or suggestion via email (interasiaculturalstudies@gmail.com)  by July 1, 2023. We look forward to hearing from you. Thank you!
List of Nominees for the incoming board of the IACS Society, August 2023-July 2025

1.      Kristine Reynaldo (Philippines)
Kristine Marie Reynaldo serves as an assistant professor at the Department of English and Comparative Literature, University of the Philippines Diliman. She did her PhD in Cultural Studies at Lingnan University in Hong Kong, writing her dissertation on the discourse of Dutertismo as a case study of contemporary "populist" political violence and its contexts of emergence. Her research interests include post/colonial modernity and decolonial studies, Third World literature, Southeast Asian Anglophone literature, and legacies of US imperialism and the Cold War.

2.      Sharmani Gabriel (Malaysia)
Sharmani Patricia Gabriel is Honorary Professor of English in the Faculty of Arts and Social Sciences at Universiti Malaya, Kuala Lumpur. Her work is interested in the formation of cultural identity and in exploring issues of representation and power. She has published widely in these areas. A recent journal publication is "Racialisation in Malaysia: Multiracialism, Multiculturalism, and the Cultural Politics of the Possible", Journal of Southeast Asian Studies, 52.4, 2021, pp. 611-633.

3.      Satofumi Kawamura (Japan)

Satofumi Kawamura is an associate professor of media and cultural studies in the Department of Communication and Culture, Faculty of Humanities, Otsuma Women's University, Tokyo. He received MA form Goldsmiths London and PhD form the Australian National University. His research interests focus on media and cultural theory, critical theory, and Japanese media culture.

4.      Keewoong Lee (Korea)
Keewoong Lee is a research professor at Institute for East Asian Studies, Sungkonghoe University, South Korea. His latest research includes "Postglobalization and Hallyu assemblage", "Global, local, regional and translocal: Towards a relational approach to scale in popular music", and Beyond the New Normal: Affect in Indonesia's Response to the Pandemic. He publishes in Korean and English.

5.      Madhuja Mukherjee (India)

Madhuja Mukherjee is Professor of Film Studies at Jadavpur University, India. She extends her research into art-practice and filmmaking. Recently she co-edited 'Popular Cinema in Bengal' (2020) and 'Industrial Networks and Cinemas of India' (2021). Her latest feature-film, 'Deep6', had its World Premiere at the 26th Busan International Film Festival 2021.

6.      Yiu-fai Chow (HK)

Yiu Fai CHOW is a Professor at the Department of Humanities and Creative Writing of Hong Kong Baptist University. His research interests include gender politics, cultural studies, and creative practices. Chow is also an award-winning writer, in particular in Chinese-language pop lyrics.

7.      Roberto Castillo (HK)

Roberto Castillo is an assistant professor at the Department of Cultural Studies at Lingnan University in Hong Kong. He has been conducting media representation and ethnographic among different communities in Southern China. He has been the Treasurer of the IACSS since 2019.

8.      Fran Martin (Australia)
Fran Martin's research focusses on cultural studies and sexuality/ gender studies in the Chinese-speaking world in the context of globalization. She is Professor of Cultural Studies and Head of the Screen and Cultural Studies Program at The University of Melbourne.

9.      Anneke Coppoolse (Korea)

Anneke Coppoolse is an Assistant Professor in the College of Fine Arts at Hongik University in Seoul, South Korea. She completed her PhD in the Department of Cultural Studies at Lingnan University, Hong Kong. Her work is located at the crossroads of culture and creative practice.

10.  Holly Hou (China)
Holly Lixian HOU is a lecturer in School of Foreign Studies at South China Agricultural University, Guangzhou, China. She now serves on the Board of IACS society and her membership will end in July 2023. She obtained her PhD in cultural studies at the Chinese University of Hong Kong in December 2016. Her research interests focus on gender and sexual politics in China, feminist and queer movement, digital activism and digital intimacy among young people. She is the author of "Rewriting 'the personal is political': young women's digital activism and new feminist politics in China"(2020), "A Study on the Strategy of the Youth's Online Feminist Video Activism and its Precarity" (2020, in Chinese), "On Fire in Weibo: Feminist Online Activism in China" (2015), "LGBT Activism in Mainland China" (2014).

11.  Thiti Jankarjornkeiat (Thailand/Canada)
Thiti Jamkajornkeiat is Assistant Professor of Global Southeast Asian Studies at the University of Victoria in Canada. He received his Ph.D. from South and Southeast Asian Studies with a Designated Emphasis in Critical Theory from UC Berkeley. He works at the intersection of Marxism, post-, anti-, and decolonial theories, and modern Southeast Asia, specifically Indonesia and Thailand. His essays and interviews have appeared in Kyoto Review of Southeast Asia, Spectre, Haymarket Books, Asia Art Tours, and upcoming in Verge.

12.  Siriporn Somboonboorana (Thailand)
Siriporn Somboonboorana is an assistant professor who teaches in the Department of Political science and Public Administration, Walailak University and is the head of the center for geosocial and cultural research (GSCR). She is an social anthropologist by training and did research in the politics of identity and the making of spaces for marginalized people who live on border land between Thailand and Myanmar and Thailand and Malaysia. Siriporn and her colleague translated Chen Kuan-Hsing's Asia as Method into Thai and published it in 2017.

13.  Rimi Khan (Singapore)
Dr Rimi Khan is a Senior Lecturer at the Department of Communications and New Media, National University of Singapore, where she is convenor of a new MA program in Arts and Cultural Entrepreneurship. Her current research examines 'ethical fashion' enterprises and wider forms of creative labour and activism in Asia. She is currently a PI on two Australian Research Council-funded projects, Vital Arts: Skilling Young People for their Futures and Indigenous Storytelling and the Living Archive of Aboriginal Knowledge. Her book Art in Community: The Provisional Citizen (2015, Palgrave Macmillan), examines how community-based arts practices are shaped by neoliberal policy agendas. She currently teaches modules on cultural policy, cultural diplomacy, Asian media and communication and the environment.

14.  Andy Chih-ming Wang (Taiwan)
Chih-ming Wang is associate research fellow at Academia Sinica, Taipei, Taiwan. He also holds a joint appointment with the International Institute for Cultural Studies at National Chiao-Tung University. He guest-edited a special issue on "Asian American studies in Asia" for Inter-Asia Cultural Studies (2012) and is the author of Transpacific Articulations: Student Migration and the Remaking of Asian America (2013). His research focuses on Asian American literature and cultural studies in diasporic and transpacific contexts.