VENUES
About | Call for Paper | Registration | Program | Venues
CONFERENCE VENUE (SungKongHoe University)
SungKongHoe University
320, Yeondong-ro,Guro-gu, Seoul
Republic of Korea, (Postal Code) 152-716
SungKongHoe University is located in the western part of Seoul, about 10km away from downtown Seoul (traveling time by public transportation is about 40-50mins).
Main conference venue is Michael Hall (Migael-gawn). Panel sessions can be held in different buildings.As the campus is cozy and small, participants can easily come and go panel rooms.
How to get to SungKongHoe University from Incheon International Airport, Gimpo International Airport, and the nearest Onsu subway station: DOWNLOAD maps and directions.
PLACES TO STAY
< Hotels in the area>
 1.Benikea Premier Hotel Bernoui (official partner of 2017 IACS Conference)
Address: Oryudong 229, Gyeongin-ro, Guro-gu, Seoul, Korea
TEL: +82-2-2683-9000
Website: http://bernoui.com/en/
E-mail: bernouihotel@gmail.com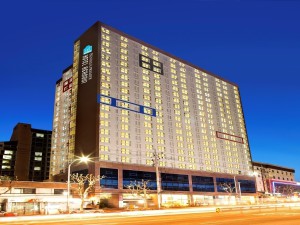 As SungKongHoe University is located in a residential area with less commercial facilities, there are fewer accommodation options. So we have arranged Benikea Premier Hotel Bernoui, the closest hotel to SungKongHoe University.
Benikea Premier Hotel Bernoui is the official partner of the IACS Conference 2017. Bernoui offers accommodations to attendees of IACS 2017 at 30-40 percent of the regular prices. Please follow the instructions below to take advantage of this offer.
Please make sure to reserve a room before 10 July 2017.
Please note that special discount only applies to the reservations made via email.
Discount is not available on hotel booking websites such as expedia.com, booking.com, hotels.com, agoda.com, and so on, and not on the official booking section of the Benikea Premier Hotel Bernoui
2.Coop City Hotel BMK http://www.booking.com/hotel/kr/co-opcity-stayco.ko.html
3.Lotte City Hotels Guro http://www.lottehotel.com/city/guro/en/Default.asp
4.SHILLA STAY GURO http://www.shillastay.com/guro/index.do
5.Novotel Ambassador Doksan https://novotel.ambatel.com/doksan/main.amb
<Hostels and Guesthouses>
1.In the area
Hi Seoul Youth Hostel http://hiseoulyh.com/en/
Hostel JJ Seoul https://www.agoda.com/hostel-jj-seoul_2/hotel/all/seoul-kr.html?checkin=2017-03-12&los=1&adults=2&rooms=1&cid=1646623&tag=668b4d20-eee1-c88a-5522-e3b044d57dc3&searchrequestid=7de79592-2b20-45e1-8c89-af487fbf6316
Raku Raku Guesthouse https://rakurakuhouse.tnaru.com/web/index
Sky Guesthouse http://www.skyguesthouse.com/default/index.php
Urban Art Guesthouse https://www.facebook.com/urbanart
2.Hongdae area
Cocoon Stay Hongik Univ. Station http://www.cocoonstay.com/cs/dong/index.asp
Easytrip Guesthouse https://www.easytripguesthouse.com
Hotel Baroato https://www.baroato.com
Kimchee Guesthouse https://kimcheeguesthouse.com
Seoul I Guesthouse http://www.seouliguesthouse.com/sub/index.php
Urban Wood http://www.urbanwood.co.kr/contents/rooms.php#prettyPhoto
3.Central Seoul
Air Hostel Seoul http://www.hostelsclub.com/hostel-en-14474.html
Hyundai Residence http://www.hyundairs.com/kor/index.do
Seoul Youth Hostel http://seoulyh.go.kr/.en/
TRAVEL INFORMATION
http://english.visitkorea.or.kr/enu/index.kto
Please visit the official website for Korea tourism. You can get information about attractions, transportation, accommodations, food, and other cultural events.