Asian Popular Music Symposium – 4th Dec. FRI / 10am~6:30pm / Lecture Hall Library Park B1, Korea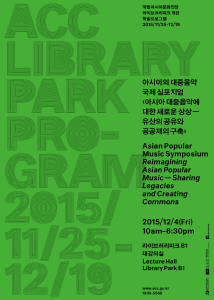 The Library Park of the Asia Culture Center is a new space in which library, museum, and archive are combined. This space represents the Asia Culture Center's vision that aspires to establish a platform through which the vast cultural and intellectual varieties of Asia as a community can be shared and communicated.
Library Park, which has exhibited a variety of research and collected materials on modern and contemporary Asian art and culture, has prepared an academic program aimed at illuminating the unique characteristics and competitiveness of Asian culture in celebration of its opening.
Among the many subjects of material held by Library Park, this program deals with Sound & Music in Asia, Performing Arts in Asia, Performance Art in Asia, Design in Asia, Exhibition Histories in Asia, etc., and will serve as a venue that offers a variety of channels through which to understand and access Asia as a vast community.
Asian Popular Music Symposium
Reimagining Asian Popular Music — Sharing Legacies and Creating Commons
4th Dec. FRI / 10am~6:30pm / Lecture Hall Library Park B1
Reimagining Asian Popular Music-Sharing Legacies and Creating Commons is an international symposium aimed at laying out the groundwork for sharing and understanding the history of popular music in Asia. Under the theme of "A New Vision for Asian Popular Music," this symposium delves into the development process of each nation's popular music, focusing on major events, figures, and works from the 1960s to 1990s.
PARTICIPANTS
Hyunjoon Shin(Sungkonghoe University Institute for East Asian Studie), Keewoong Lee(Sungkonghoe University Institute for East Asian Studie), Yoshitaka Mori(Tokyo University of the Arts), Anthony Y. H. Fung (Chinese University), Ho Tung-Hung(Fu-jen Catholic University), Liew Kai Khiun (Nanyang Technological University), Viriya Sawangchot (Thai Public Broadcasting Service), Buni Yani (PhD Candidate, Leiden University)
Session 1 The Formation and Development of Modern Asian Popular Music: Korea and Japan
10~12pm │ Hyunjoon Shin(Sungkonghoe University) Making Sense of Asian Pop History from An Inter-Asia Perspective
Keewoong Lee(Sungkonghoe University) Reconceptualizing the History of Korean Pop: Record, Stage and Broadcasting
Yoshitaka Mori(Tokyo University of the Arts) A brief History of Japanese Popular Music since the 1970s: Kayokyoku, New Music and J-pop
Session 2 The Formation and Development of Modern Asian Popular Music: Hong Kong, Taiwan and China
1~3pm │
Anthony Y. H. Fung (Chinese University of Hong Kong) Historical Development of Cantopop in 1970s-2010s: from Mediation to Non-mediation
Ho Tung-Hung(Fu-jen Catholic University) Altering Nativism: A Historical Rewriting of Popular Music and Social Sound in Postwar Taiwan
Zhang Qian(Communication University of China) The Collectivism Discourse and Media System of 1980s Popular Music in Mainland China
Session 3 The Formation and Development of Modern Asian Popular Music: Singapore, Thailand and The Philippines     
3:20~5:20pm│
Liew Kai Khiun (Nanyang Technological University) Fragments: Overview of the Study of Popular Music in Singapore
Viriya Sawangchot (Thai Public Broadcasting Service) Thai Popular Music and Its Unsatisfied Taste in the 1960s-1990s
Buni Yani (PhD Candidate, Leiden University) 40 Years of Pinoy Sound Modernity, 1960s-1990s
 
Session 4 Discussion: Wrapping Up Session: The Aims and Methods of Building an Asian Popular Music Archive
Moderator: Hyunjoon Shin Discussant: All Presenters
●  English – Korean Simultaneous Interpreting
●   http://www.acc.go.kr  1899-5566
● Registration : http://goo.gl/forms/Znfu7PxUUt
● Free Bus Seoul->Gwangju : 6:30 a.m 04/DEC/2015/  Sadang Subway Station Exit 1 (Sadang station public parking lot)
● Tel. +82(0)62-601-4434 /  atradio@iacd.kr
For more information: