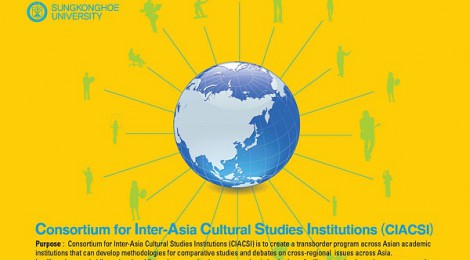 2010 Summer School at a glance
Previous Summer Schools:  2016 | 2014 | 2012 | 2010 | 2008
 The Inter-Asia Cultural Studies Society Summer School (IACSSSS) is designed for graduate level students from across Asia. Those participating in this program will have an opportunity to share concerns about the current political, social and cultural issues of Asia and beyond in Cultural Studies perspective.
Venue: SungKongHoe University in Seoul, Korea
Program: Click Here
Program Duration: July 5 – July 14, 2010.
* Eight teaching days, including one day for students' presentation
* Field work on July 10 (Saturday)
* No classes or activities on July 11 (Sunday)
Expenses: No application fees.
* Tuition of 110,000 KRW to be paid upon arrival in Seoul. (Observer: 250,000 KRW)
* Accommodation and lunch covered during the scheduled school days (only).
Organized by: The Inter-Asia Cultural Studies Society
Institute for East Asian Studies, SungKongHoe University
Inquiries
Email: 2010iacssss@gmail.com /  Tel: +82 (0)2 2610 4707
Committee and Staff
Organizing Committee
Ashish RAJADHYAKSHA (CSCS, Bangalore, India)
CHEN Kuan-Hsing (National Chiao Tung University, Taiwan)
CHO Hee-yeon (SungKongHoe University, Korea)
Melani BUDIANTA (University of Indonesia, Indonesia)
DING Naifei (National Central University, Taiwan)
KIM Soyoung (Korean National University of Arts, Korea)
Stephen CHAN (Lingnan University, Hong Kong)
YOO Sunyoung (SungKongHoe University, Korea)
Tejaswini NIRANJANA (Centre for the Study of Culture and Society, India)
WANG Xiaoming (Shanghai University, China)
PAIK Wondam (SungKongHoe University, Korea)
Local Steering Committee
SHIN Hyunjoon (SungKongHoe University, Korea)
OH Youngsook (SungKongHoe University, Korea)
Executive Staff 
KANG Innam (SungKongHoe University, Korea)
Olessya KIM (SungKongHoe University, Korea)
HAN Jiseon (SungKongHoe University, Korea)
Participants 
Yeon Gwang-Seok (National Chiao Tung University/Taiwan, South Korea)
Cai Bo (East China Normal University, China)
Wang Xiang (CCCS, Shanghai University, China)
Wang Dake (East China Normal University, China)
Pan Jiaen (Lingnan University, Hong Kong)
Xu Xi Hong (Kong University, Hong Kong)
Liu Ya-Fang (National Chiao Tung University, Taiwan)
Hu Chin-ya (National Chiao Tung University, Taiwan)
Chang Yung-Ching (Jerry) (National Central University, Taiwan)
Lu Yi-ting (National Tsing Hua University, Taiwan)
Liu Yi-hung (National Central University, Taiwan)
Chen Po-Hsi (National Central University, Taiwan)
Ryu Jae-Keun (SungKongHoe University, South Korea)
Lee So-Hoon (University of Toronto, Canada)
Kang Jin-Seok (Korean National University, South Korea)
Kim Soo-Yeon (Korea National University, South Korea)
Kim Sook-Kyung (SungKongHoe University, South Korea)
Han Ji-Seon (SungKongHoe University, South Korea)
Nielsen Jacob Ki (University of Copenhagen, Denmark)
Lee Seung-Hee (Yonsei University, Korea)
Choi Yong-Hwa (ChungAng University, Korea)
Kim So-Young (Shanghai University, Korea)
Ko Yoon-Sil (Shanghai University, Korea)
Feng Ni (China)
Kim Su-Hyun (Korea)
Li Chen (China)
Shan Qing (China)